Rare Books
Search for first editions, signed, rare & antiquarian books
Tales That Live Forever: 201 Years of the Brothers Grimm
In December, 1812, the Brothers Grimm published Children's and Household Tales and helped popularise one of the most enduring aspects of Western popular culture - the fairy tale.

Collectable E. Nesbit
Though best known for The Railway Children, E. Nesbit's writing went beyond children's books to adult novels, political writing, and even poetry. She is a talent not to be missed.
›
See the books
Collectable Magic Books
Books about magicians and magic have fascinated readers since the mid-19th century - from pioneering Frenchman Robert-Houdin to Harry Houdini. You'll even find some incredibly rare Houdini ephemera.

›
See the books
Unusual Bindings
As if books weren't interesting enough already, these volumes skip leather and cloth in favour of extraordinary methods and materials. Creative bookbinders have explored some unlikely media.
›
See the books
Edwardian First Editions
Defined as the reign of King Edward VII, the period of 1901-1910 was filled with adventure, social change, and amazingly beautiful book covers, from Beatrix Potter to Zane Grey.
›
See the books
Most Expensive Sales:
November 2013
Some Disordered Interior Geomotries by Francesca Woodman
Sold for

£10,690

Alcoholics Anonymous by Bill Wilson
Sold for

£8,000

Letter signed by the King & Queen of Spain, 1474
Sold for

£5,803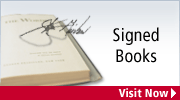 Collectable Authors
Discover our collection of collectable authors, including many first editions and signed books.