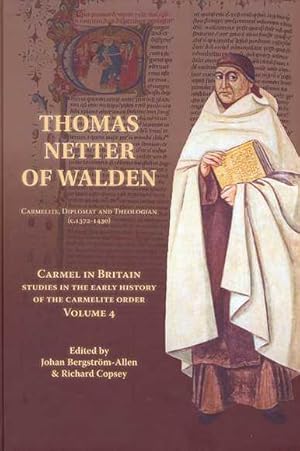 Bookseller Image
Thomas Netter of Walden: Carmelite, Diplomat and Theologian (c.1372-1430)
Published by
Saint Albert's Press & Edizioni Carmelitane, 2009
New
/
Hard Cover
/
Quantity Available:
> 20
From
Saint Albert's Press
(Faversham, Kent, United Kingdom)
Available From More Booksellers
View all copies of this book

About the Book
Bibliographic Details
Title: Thomas Netter of Walden: Carmelite, Diplomat...
Publisher: Saint Albert's Press & Edizioni Carmelitane
Publication Date: 2009
Binding: Hard Cover
Book Condition: New
Edition: First Edition
Description:
Sometimes dubbed the last great medieval theologian, Thomas Netter was a Carmelite friar from Saffron Walden in England. By the time of his death in 1430, his writings on theology, philosophy, Canon Law and Scripture had travelled across the Christian world, and a cult of sanctity quickly developed at the tomb of 'blessed Thomas' in the French city of Rouen. Netter's life and writings give an insight into the political, intellectual, and ecclesiastical complexities of late medieval Europe. As a participant at the Councils of Pisa and Constance and as a diplomat and confessor for the house of Lancaster, Netter enjoyed great spiritual and political influence. Thomas Netter played a prominent role in heresy debates and trials, refuting Wyclif, Hus, and their adherents by preaching against Lollardy and by writing the Doctrinale antiquitatum fidei eccleaisæ catholicæ, a magisterial apologia of Catholic dogma which dominated Western Christian teaching for centuries. A scanned copy of the Doctrinale (in the form of a PDF file) is appended to this, the fourth volume of the Carmel in Britain series, in which scholars from the Carmelite Order and the wider academic community interpret the impact of Thomas Netter on his contemporaries, and his enduring influence. Attracting interest and controversy today as he did in the fifteenth century, the contributors consider Netter's role in shaping Catholic Christian thought in the face of growing calls for the Church's reformation. Normally retailing at £54.00, Saint Albert's Press is pleased to offer this book to customers at the specially discounted price of £42.00 as part of the promotion of Carmelite Studies by the British Province of Carmelites. 423 pages. Free bookmark enclosed. Shipping costs are based on the matrix proposed by AbeBooks and are quoted at the maximum level. If your book is lighter than that proposed by the matrix, we will endeavour to offer you a lower rate once your order has been placed. As a guide only; we hope to reduce the shipping for this book by £1.00 for orders within the United Kingdom, by £1.50 for orders within Europe, by £3.00 for orders from Australia & New Zealand and by £2.50 for orders from the Rest of the World. Bookseller Inventory # 000133
Bookseller & Payment Information
Payment Methods
This bookseller accepts the following methods of payment:
American Express
JCB
MasterCard
Visa
Bookseller: Saint Albert's Press
Address: Faversham, Kent, United Kingdom
AbeBooks Bookseller Since: 26 October 2007
Bookseller Rating:

Terms of Sale: Saint Albert's Press is a U.K. registered charity - 1061342. Contact:- Kevin Bellman, Saint Albert's Press, St. Jude Shrine Office, 34 Tanners Street, Faversham, Kent, ME13 7JN, United Kingdom. Email address:- saintalbertspress@carmelites.org.uk. Telephone Number:- 01795 537038. Fax Number:- 01795 539511.
Shipping Terms: Orders are usually shipped second class post/courier within 3 business days. Shipping costs are based on the matrix proposed by ABEBooks, and are quoted at the maximum level. If your book order is considerably lighter or differently sized than that proposed by ABE's matrix, we may contact you to let you know that less payment is required for shipping.
Store Description: Saint Albert's Press is the publishing house of the British Province of Carmelite Friars, a religious order within the Roman Catholic Church (U.K. registered charity 1061342). Our books focus upon the heritage and spirituality of the Carmelite Family and Christianity more generally, and we act as distributor for various Carmelite publishers overseas.