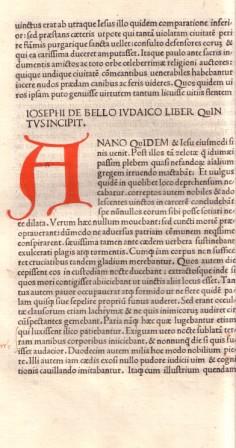 Bookseller Image
De Bello Judaico
Published by
Pierre Maufer, Vérone, 1480
Used
/
Cuir
/
Quantity Available:
1
From
Incunable
(LUXEMBOURG, Luxembourg)
Available From More Booksellers
View all copies of this book

About the Book
Bibliographic Details
Title: De Bello Judaico
Publisher: Pierre Maufer, Vérone
Publication Date: 1480
Binding: Cuir
Book Condition: Très bon
Edition: 1ère Édition
Description:
Flavius Joseph (c. 38 - c. 100 ad). ~ Josephi Machaciae filii Hebraei genere sacerdotis ex Hierosolymis de Bello Judaico. (Josephi Machaciae filii Hebraei genere sacerdotis ex Hierosolymis de Antiquitate Judaeorum contra Appionem grammaticum Alexandrinum.). De bello judaïco Libri VII ~ Vérone, P. Maufer, 25 décembre 1480 ~ Vérone, P. Maufer, 25 décembre 1480 In-fol., [181] ff. à 36 lignes, en lettres rondes [les incunables imprimés en lettres rondes sont tout à fait inhabituels et attestent de la modernité de l'imprimeur de l'époque],la rubrification fut laissée au rubrificateur, qui continuait à faire son travail à la main et qui exécutait les initiales, maroquin rouge, triple filet doré encadrant les plats, dos lisse orné, dentelle dorée sur les chasses et les coupes, gardes en tabis bleu, tranches dorées (reliure du XVIIIe siècle), étui. Seul figure içi De bello Judaico, ce texte essentiel est complet et devait justifier la luxueuse reliure qui lui fut commandée. L'imprimeur normand Pierre Maufer natif de Rouen [loyal et inventif en la resserche de l'oeuvre d'imprimerie] exerça à Padoue en 1474 avant de s'installer à Vérone en 1480 et à Modène en 1491. Exemplaire de la bibliothèque de Jean (Hans) Furstenberg avec son ex-libris ; autre ex-libris E.-PH.-G. Ernts Philippe Goldschmidt. Hain, pp. 165, réf. 952, Polain II - 2334 pp. 694, Goff 3484 . Le duc d¿Aumale révait d¿acquérir un exemplaire de cet incunable et eut toutes les peines du monde à l¿obtenir. Flavius Josephus (37 – sometime after 100), also known as Yosef Ben Matityahu (Joseph, son of Matthias), who became known, in his capacity as a Roman citizen, as Titus Flavius Josephus, was a 1st-century Jewish historian and apologist of priestly and royal ancestry who survived and recorded the Destruction of Jerusalem in 70. His works give an important insight into first-century Judaism. Josephus's two most important works are Jewish War (c. 75) and Antiquities of the Jews (c. 94). Jewish War recounts the Jewish revolt against Rome (66-70). Antiquities of the Jews recounts the history of the world from a Jewish perspective. These works provide valuable insight into the background of 1st-century Judaism and early Christianity. Josephus, who introduced himself in Greek as "Iosepos (??s?p??), son of Matthias, an ethnic Jew, a priest from Jerusalem", fought the Romans in the First Jewish-Roman War of 66-73 as a Jewish military leader in Galilee. After the Jewish garrison of Yodfat was taken under siege, the Romans invaded, killing thousands, and the remaining survivors who had managed to elude the forces committed suicide. However, in circumstances that are somewhat unclear, Josephus and one of his soldiers surrendered to the Roman forces invading Galilee in July 67. He became a prisoner and provided the Romans with intelligence on the ongoing revolt. The Roman forces were led by Flavius Vespasian and his son Titus, both subsequently Roman emperors. In 69, Josephus was released (cf. War IV.622-629) and according to Josephus's own account, he appears to have played some role as a negotiator with the defenders in the Siege of Jerusalem in 70. In 71, he arrived in Rome in the entourage of Titus, becoming a Roman citizen and Flavian dynasty client (hence he is often referred to as Flavius Josephus). In addition to Roman citizenship he was granted accommodation in conquered Judea, and a decent, if not extravagant, pension. It was while in Rome, and under Flavian patronage, that Josephus wrote all of his known works. The works of Josephus provide crucial information about the First Jewish-Roman War and are also important literary source material for understanding the context of the Dead Sea Scrolls and post-Second Temple Judaism. Josephus offers information about individuals, groups, customs and geographical places. His writings provide a significant, extra-biblical account of the post-exilic period of the Maccabees, the Hasmonean dynasty and the rise of Herod the Great. He makes. Bookseller Inventory # 000070
Bookseller & Payment Information
Payment Methods
This bookseller accepts the following methods of payment:
American Express
Bank/Wire Transfer
Direct Debit (Personally Authorized Payment)
Invoice
JCB
MasterCard
PayPal
Visa
Bookseller: Incunable
Address: LUXEMBOURG, Luxembourg
AbeBooks Bookseller Since: 09 March 2006
Bookseller Rating:

Terms of Sale: Our conditions of sale comply with the AELA's rules (Association Européenne du Livre Ancien). They correspond to the usages generally and universally recognised in all commercial transactions relating to the profession of antiquarian bookseller, either between professionals or between professionals and institutions or individuals
Shipping Terms: Les frais de port sont calculés sur la base d'un livre = un kilo. Au cas où livres commandés seraient particulièrement lourds ou imposants, vous serez informé que des frais de transports supplémentaires sont nécessaires.
Store Description: Incunable is specialised in valuable and rare books and manuscripts from the 15th to the 19th century. We offer you a wide selection of antiquarian books in Incunabula, early printed books, illuminated manuscripts and first and rare editions or illustrated editions of literature, history, philosophy, history of Ideas, utopia, occult and esotericism. We also have strong holdings in arts, natural history, travels, geographical discoveries and topographical views as well as historical documents, old master prints, autographs, books about books and fine bindings. Our books are guaranteed to be complete and in good condition as well as carefully collated and verified in accordance with the best authorised bibliographies. They are remarkable not only by their contents and antique nature but also by their printing, binding, state of preservation and very often their prestigious origin. Passion for antiquarian books can indeed not be improvised. It is the consequence of a lifelong education to sensibility and rigor, patience and impulsivity and the gratifying result of a fascinating journey throughout discoveries and bursts of enthusiasm as well as hard researches and some deceptions