Rare Books
Search for first editions, signed, rare & antiquarian books
Rare Japanese Photobooks
Japanese photography is one of the most vibrant genres in the rare book world. The photobooks of Nobuyoshi Araki, Daido Moriyama and others provide thought-provoking visions of Japan and the world beyond.

Collectable E. Nesbit
Though best known for The Railway Children, E. Nesbit's writing went beyond children's books to adult novels, political writing, and even poetry. She is a talent not to be missed.
›
See the books
Dario Ustino: Master Bookbinder
When it comes to the treasured art of bookbinding, Dario Ustino is a true master. Working out of his shop in Venice, Italy, Ustino restores rare books with stunning customized bindings.

›
Find out more
Unusual Bindings
As if books weren't interesting enough already, these volumes skip leather and cloth in favour of extraordinary methods and materials. Creative bookbinders have explored some unlikely media.
›
See the books
Edwardian First Editions
Defined as the reign of King Edward VII, the period of 1901-1910 was filled with adventure, social change, and amazingly beautiful book covers, from Beatrix Potter to Zane Grey.
›
See the books
Most Expensive Sales:
March 2014
Les Maîtres de L'Affiche (5 vols)
Sold for

£26,000

Couleur Amour by Marc Chagall
Sold for

£9,000

Femmes et Faunes by Antonina Vallentin Sold for

£6,000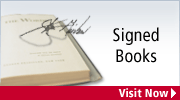 Collectable Authors
Discover our collection of collectable authors, including many first editions and signed books.